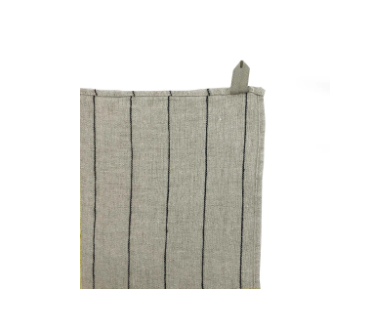 Calvi Tea Towel
Sorry, this product is sold out!
Update your kitchen with the Harmony, France range of beautiful linen tea towels available at Francalia. Generously sized at 46cmx70cm, each tea towel is machine washable at 60°C to ensure you can dry dishes, swipe your hands, or handle hot plates time and time again. Each style is sold as a pack of 6 and is made from 100% stonewashed linen meaning that they are durable, absorbent, lint-free and will soften with use – plus each towel is finished with a strong fabric loop positioned in the corner for easy hanging options. With 9 styles and 27 colour options available there is a design style that suits your kitchen interior needs.
The Calvi tea towel is a tried-and-true favourite style, thanks to the use of a single base colour paired with the thin black stripes. The combination of the white and natural colour options with the stripes gives the Calvi style a distinct French feel, adding a sense of chic and sophistication to the kitchen space.
See more: Unknown Type
Related products