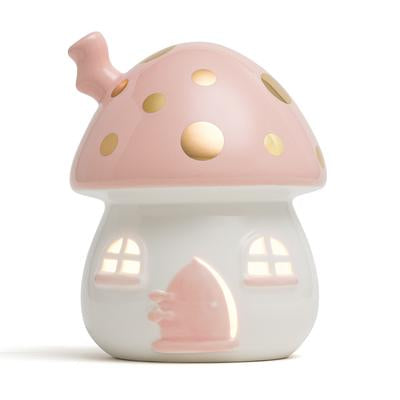 Little Belle Fairy House Nightlight.
An all time favourite in children's lights. Our beautiful fairy house nightlight is created in New Zealand and artisan made and decorated over 30 days by around 12 different hands.
Our unique and exclusive kids lamps are designed to be heirloom quality to last for many generations to come. Our enchanting designs mean that your little belle light will quickly become a bed time staple your child's room. Weave some folklore into your bedtime routine and let the reassuring glow of Little Belle comfort your little one at night and help promote sleep.
Features:

Power Source: Plug in/Mains with a low voltage 12v adapter for safety.
Dimensions: Height: 19cm. Width: 15cm.

Warm gentle light, perfect for a middle of the night nappy change or reassuring glow for little ones if they wake in the night.

Made from porcelain, not plastic!